BP Solar Outsourcing Production of Solar Panels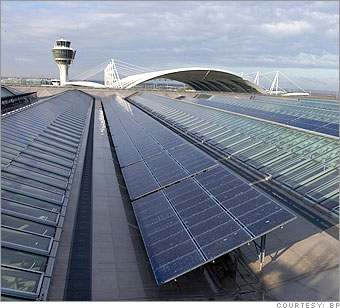 The myth of America's leadership in the world's 21st Century "green economy" suffered yet another blow Friday as BP Solar announced the closure of a Maryland manufacturing plant that built solar panels.
The company announced that it would close its Frederick, Maryland, plant and move the production to facilities in India, China and elsewhere. The plant closing will affect some 320 workers at the factory.
The announcement comes just three years after the company received a $7.5 million grant from the Department of Energy to promote alternative energy and wean the nation off its dependence on foreign oil.
But, the company says, business conditions have deteriorated so much so that, in order to remain profitable, the company must outsource production to low-wage nations such as China and India.
"Solar prices declined between 40 and 50 percent since the onset of the financial and economic crisis, compressing industry margins and driving solar power towards grid competitive pricing," BP Solar CEO Reyad Fezzani said in a statement.
BP chief executive Tony Hayward put the company's decision in less eloquent but more succinct terms, telling The Washington Post that the company was "moving to where we can manufacture cheaply."
China's cheap labor, combined with free trade policies that afford companies with international portability, have propelled China to the top of the mountain in terms of clean energy investment.
In 2009, China became the world's leader in private investment in renewable energy, according to a report by the Pew Charitable Trusts. Even in the midst of the worst recession since the Great Depression, China invested $34.6 billion in green technologies.
America, meanwhile, has leaked clean energy investment and jobs like a sieve. According to the report, the U.S. has invested just over half the amount of China in clean energy technologies. For all of 2009, private investment in the U.S. totaled just $18.6 billion, down 48 percent from 2008.
A report by the Investigative Reporting Workshop and ABC News, found that $8 of every $10 spent on wind energy projects through the stimulus package went to a foreign company. Total recovery funds spent on wind energy projects total nearly $2 billion.
The report estimates stimulus funding for wind projects have created roughly 6,000 manufacturing jobs overseas and just hundreds in America. Thus far, the Recovery Act has paid to create 1,807 wind turbines to fuel American homes, businesses, schools and other buildings. Just 588 of those were manufactured domestically, according to the report.
"The United States' competitive position is at risk in the emerging clean energy economy," Phyllis Cuttino, director of the Pew Environment Group's Global Warming Campaign, said in a statement attached to the group's report.